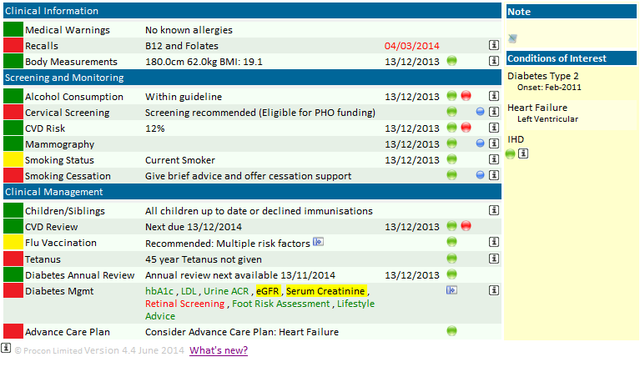 Patient Dashboard is a form that displays within Medtech32 every time you bring up a new patient.
The intention is to display on a single screen:
all key clinical information relevant to routine management of the patient
clinical information that is not recorded or is out of date
clinical tasks that should be considered
one click access" to many of the forms needed for routine clinical care.
Everything about Patient Dashboard can be customised to meet the local needs of the organisation:
the "rules" by which traffic lights are red/yellow/green
additional "rows" for other clinical areas of interest (e.g. Hep-B screening has been added for Northland) or rows removed that are not relevant
the "conditions of interest" and which READ codes they map to
the "rules" around clinical programmes e.g. whether the patient is eligible for a funded Care Plus review, diabetes annual review, smoking cessation support etc
the overall organisation and look and feel.
Patient Dashboard has been shown to significantly improve the quality and quantity of clinical information systematically recorded about patients.  This in turn leads to:
achieving PHO Performance Programme targets
improved service to patients
increased access to clinical programmes
improved population health information for the PHO.
A three-page overview of Patient Dashboard is available here.
Patient Dashboard supports the following clinical areas:
Advance Care Plan
Alcohol Consumption
Before School Check
Bowel Cancer Screening
Blood Pressure
Care Planning 
Care Plus Reviews
Cervical Screening
Childhood Immunisations
Chlamydia Screening
CKD Screening and Management
CVD Risk Screening
Diabetes Management
Diabetes Screening
Early Pregnancy Assessment
Falls RIsk Screening
Height and Weight, and giving diet and exercise advice
Hepatitis B Screening and Vaccination
HPV immunisation
Influenza Vaccination
Mammography
Measles Immunisation
Pneumococcal Vaccination
Smoking Status and Cessation Support
Substances and Choices Scale
Tetanus immunisations
Therapeutic Drug Monitoring