Getting the "Export to Excel" button to work
A number of advanced forms have an "Export to Excel" button, but this will only work if the security within Internet Explorer is set correctly.
This is not turned on by default. It needs to be changed on every workstation that uses the form.
The steps involved are quite straight forward:
Add the procon and procon2 sites to the list of trusted sites
Note that every version of Internet Explorer is slightly different so you may find that your screen looks a little different. The instructions below are for Internet Explorer version 9.
Start Internet Explorer.
Access the Internet options by clicking on the and then selecting "Internet Options".

Click on the "Security" tab.

Click on .

Click on .

Make sure that is unticked.

Add the required sites to the trusted zone (just those that you need):
www.procon.co.nz
www.procon2.co.nz
Close.
Your screen should look like this (there may be others here already - don't delete them, and note that it doesn't matter if it has "http:" in the beginning or not):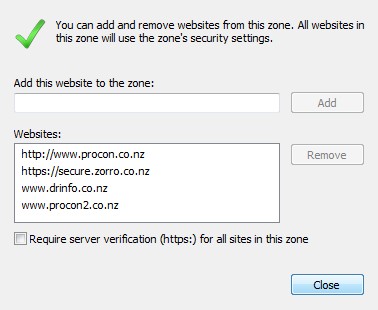 Allow active-x scripts to run:
With still selected, click on .

Scroll down the settings until you see "Initialize and script ActiveX controls not marked as safe for scripting".

Set this option to "Enable" as shown below.




Click on "OK" to save the settings.